Stage your own opera with our freestanding tubs
What could be better than the exhilarating expression and timeless grandeur of the opera to inspire new single-piece freestanding tubs?
Star in your own opera.
Enjoy your experience!
Joan, the authentic
This one piece freestanding bathtub features an interesting mix of voluptuous curves and refined lines, resulting in an innovative design that includes a hidden drain.
The asymmetrical look makes this bathtub the perfect showpiece for your bathroom, while the raised backrest assures a comfortable bathing experience in our smallest freestanding one piece bathtub.
Villi, the enchanter
This one piece stand alone bathtub was designed to ambiguously blur the lines between traditional and modern, in order to create an enchanting bathtub with a rectangular design and curvy comfort.
The Villi model includes an unique hidden drain and a maximized bathing well, for a magnetic piece of art that will be the centerpiece of any bathroom.
Manipulate our new tubs in 3D models!
Scroll down to see all of our one-piece freestanding tubs in 3D models that you can turn, twist and zoom!
Elina, the timeless beauty
This elegant one-piece freestanding bathtub, traditional in both design and shape, displays gentle curves and comfortable double raised backrests for an ultimate relaxation experience.
Featuring a unique skirt with a decorative border, the Elina model has a classic beauty and a timeless style that will be perfect for your glamorous bathroom.
Oberto, the audacious
This minimalist freestanding bathtub presents a clever mix of design features combined with clean and simple symmetrical lines, which make it the perfect choice to fit into any decor.
The ambitious Oberto tub comes with a unique recessed deck space for faucet installation or storage space that will provide you with the additional space you need.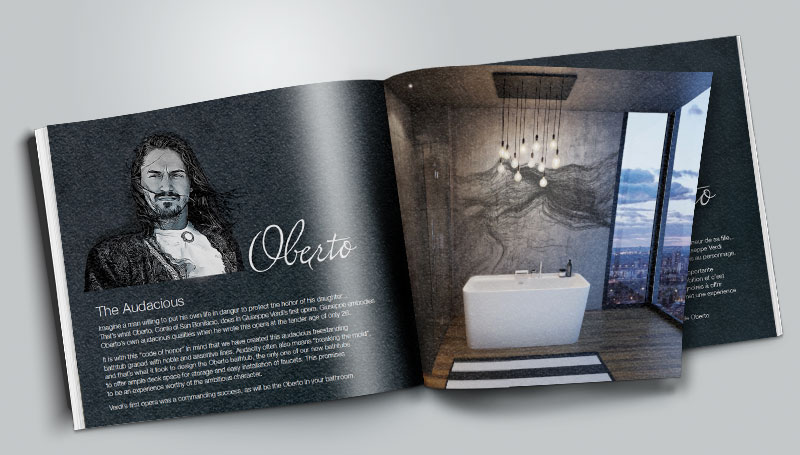 Download our one-piece freestanding tub lookbook
Learn more about the inspiration that lies behind the trendy design of our new one-piece freestanding Collection bathtubs, and discover with which opera character you identify the most!
Download the Lookbook
Accessible and Luxurious Freestanding Tubs with Designer Detailing
Get the elevated designer look you want, with intelligently designed features that enhance your lifestyle. Our Opera in my Bathtub collection embodies a variety of styles (traditional, transitional, modern) and sizes made for today's smaller bathrooms and ensuite bathroom needs.
See your Favorite Freestanding Tub In-Store
Find the nearest authorized dealer near you to test out a MAAX stand alone tub. Just be sure to call in advance to confirm that they have your desired model on display.